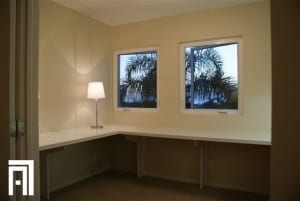 Every room in a home offers something to its owners and inhabitants, but every so often a certain room could use a new look and a new layout.  If this is a project you're considering and you're not sure how to proceed, your first step should be to contact San Diego room additions professionals who have handled these projects many times in the past.  The perspective that this type of help could provide could prove to be invaluable in regards to your final plan.  Below you'll find some brief suggestions regarding how you should get started.
Envision the Possibilities With Room Additions
Every room offers an opportunity for a unique look.  Therefore, when you're considering what could be done, do not limit yourself to simple tasks such as new paint or new flooring.  Walls could be knocked down.  Additions could be added from the outside.  Ceilings could be raised, lowered or reshaped.  In short, anything is possible, and it's always best to start with your dream and work backwards to minimize the chance that you'll neglect to include a feature you want.
Decide on a Budget
Every room addition costs money, and everyone understands this.  When these situations become difficult is when someone does not have a strict budget in mind and then gets into the routine of justifying additional expenses as they arise.  This only adds stress to the entire project and raises the temptation to cut corners in order to avoid costs as the project nears completion.  Generally, this will not lead to a high level of satisfaction.
Compare Your Budget to Your Vision
Usually, when someone provides San Diego room additions companies with their dream scenario for a new look as well as their budget, it leads to a reduction in the type and amount of work that would be done.  This is a normal process and not one that should be avoided – it usually works out better for homeowners to combine these two variables at this point so that expectations for both the homeowner and the San Diego room additions company are set properly and the chances for confusion and anxiety are minimized.
Seek the Help of San Diego Room Additions Professionals
Ultimately, taking this large step towards adding to a room will require the help of San Diego room additions professionals to help bring your vision to reality within the budget you have in mind and agree upon with your professional help.  Setting out on a project in this manner will give you the best opportunity for a smooth and rewarding experience.  Contact Chad of All Trades today to get this exciting process started.