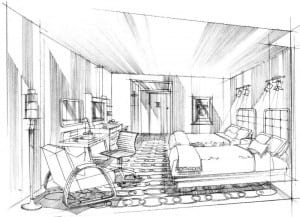 At Chad of All Trades, Inc. we are firm believers that designing your next project is imperative to the success of your overall project and budget. By having a well thought out design, there will be no room for ambiguity. When the design is clear and concise, it will make it easier to accurately define crucial timelines that have been the proverbial crux tension between homeowners and contractors. In fact, all tension can be minimized on a construction project by a well thought out design because the design also helps client and contractor agree on a level of expectation, and the quality of the finished product. In other words, the project becomes more like putting together a puzzle where the end result is clear and there is only one right solution and no left over pieces; as opposed to creating a painting where the outcome is in the eye of the beholder and each eye has its own means and quality of finish.
Chad Arendsen and Lindsay Hester met the first day of kindergarten in Vista, California. Their 25 year friendship has transitioned into a viable and symbiotic business arrangement; the foundation of which is more than 24 years of combined experience in design and remodeling.
Their professional partnership provides clients the convenience of a design-build experience with the added benefit of a team whose collaborative efforts stretch back to schoolyard games and elementary school government.
Visit HesterInteriors.com for more information.
Lindsay Hester – Principal, Hester Interiors
Chad Arendsen – Principal, Chad of All Trades, Inc.