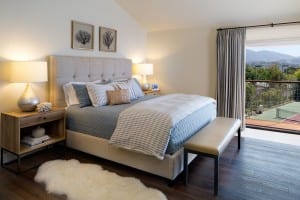 Few people realize that they spend more time in their bedrooms than in any other room in their homes.  Unfortunately, bedrooms are often overlooked when it comes to considering a remodel of their property, and those who have taken this step understand that this type of project will provide a constant reminder of how beneficial such a project can be.  Below is a brief overview of remodeling steps that can be taken inside of a bedroom that will add a tremendous amount of comfort, aesthetic beauty and satisfaction to any living experience.
Consider the Exterior
One of the most overlooked aspects to any bedroom remodel< is the potential for work to be done that will accentuate the exterior of that room.  Specifically, many bedrooms could be aided tremendously with the addition of a sitting deck or some other structure that flows from French doors or some other custom-built opening.  This feature will in essence provide an entirely new room to your sleeping quarters and completely change the overall dynamic of the space.
Bedroom Floors
Floors are like anything else in the home in that they need to be updated and refurbished from time to time.  Whether you're thinking of moving from carpeting to hardwood or you'd like a different form of carpeting or hardwood, sound craftsmanship and sound building technique can provide you with years of satisfaction and set the tone for the environment you want your bedroom to give off.
Bedroom Windows
Many people do not consider the possibilities that an expanded or a clearer view of the outside can bring to a bedroom.  Remodeling windows and providing the room with a look and a level of functionality that fit the overall tone of the space will only increase everyone's enjoyment of the area.
Bedroom Closets
Clearly, one of the mainstays of any bedroom is the closet or closets.  Remodeling these areas can provide those who use the bedroom with countless experiences of heightened convenience, upgraded organization and more space to do the things that need to be done in the morning or in the evening.
Overall, bedrooms are where we live more than anywhere else in a home.  In addition, working with a professional Solana Beach remodeling service can help you achieve all that you want in a look and in new features with the potential to recapture your investment by way of an increase in your home's value.  If you'd like to learn more about what could be done, contact Chad of All Trades today to schedule an initial consultation.