Introducing...
Quick-Turn Projects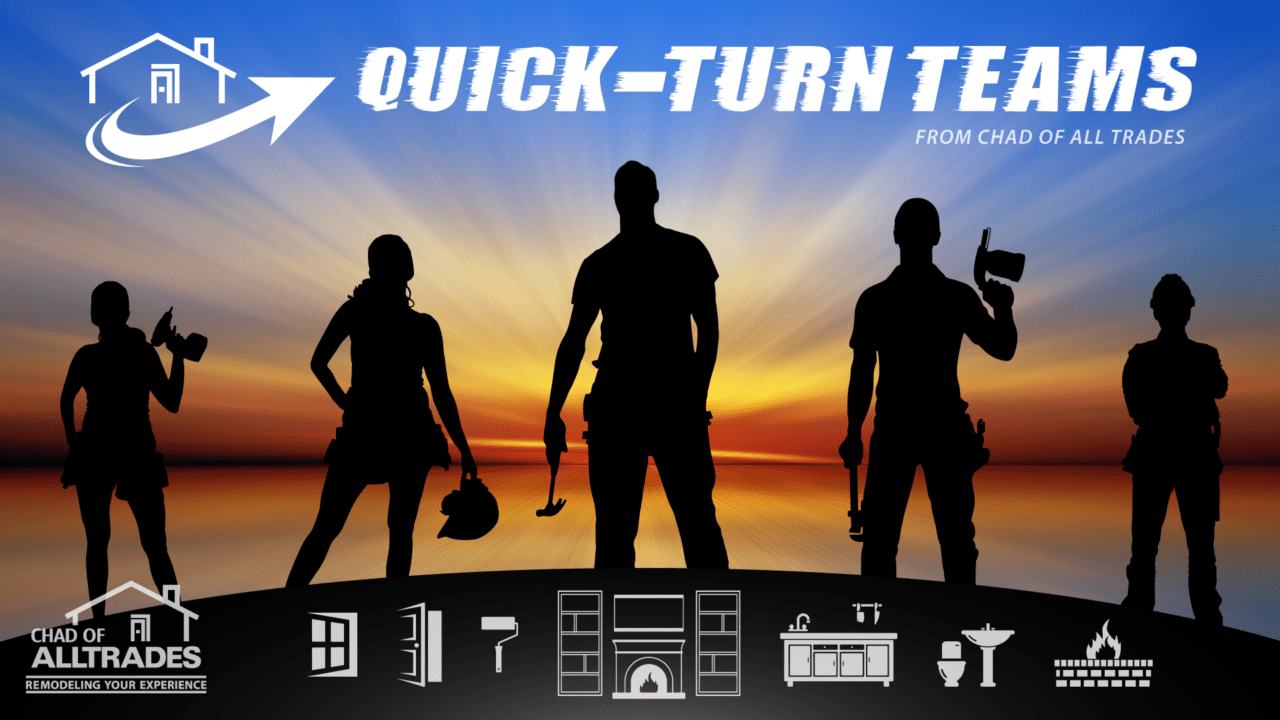 We've added some extra players to the COAT team to offer turnkey services to local San Diego area homeowners!
At this time of year, speed is especially important when scrambling to get your home ready for those colder nights and holiday events. It's also difficult to take on larger projects that require months of design and planning, so we've added services that we can turnaround quickly and more affordably!
Our new Quick-Turn Projects include:
To help us spread the word, we're offering a generous incentive! Simply follow us on Instagram, Facebook or Twitter and receive $1,000 OFF any of our Quick-Turn Projects! Just show your Project Manager a screenshot as proof and you'll receive your discount! Follow us on all 3 and receive $1,500 OFF!
Follow Us for Savings
on Quick-Turn Projects!
How May We Improve Your Home Today?
That is how we answer our phone. Why? Because everything we do from answering the phone, to designing your space, to the execution of the design by our skilled team of tradespeople is done with impetus of "Remodeling Your Experience."
Most homeowners believe that all contractors are the same.  It is very difficult to change that impression . . . for most companies . . .
Call or email us today and let us show you why you will never want any other San Diego Home Remodeling company to do work on your home again.
We create long-term relationships with our clients and their homes, we provide efficient & dependable service, through preventive maintenance and planning. We reduce maintenance costs and add value and functionality to your home, and dollars spent will not be money thrown down the proverbial drain.
Improve Your Home
Here's some of our previous work
Outdoor Living Portfolio
admin
What Our Clients Say
It is my pleasure to introduce a wonderful General Contractor, Chad Arendsen.While San Diego has many seasoned professionals in the remodeling and new construction industry, it is always a rewarding experience working with Chad and the C.O.A.T. team.The attention to detail and follow through is what set them apart.In one of our earliest project collaborations, he held a team meeting with all of the subcontractors and emphasized that exceeding our client's expectation was the driving reason for each of us to give our best.This philosophy sets the tone for all of his projects.Every team member feels valued and every client is treated as if they were the only client.I have enjoyed each project we have collaborated on and hope to be a part of his team for many years to come.
Lilium Designs had the pleasure of working with Chad of All Trades on an extensive renovation of a ranch style home in La Mesa, CA. COAT proved to be a team of knowledgeable, efficient, hardworking craftsman, whose attention to detail, consistent communication, and skilled project management kept the remodel progressing seamlessly and within the desired timeline. The result was not merely an aesthetic transformation in the end, but an enjoyable experience for us as the designers, and most importantly for our clients, along the way. The COAT approach of working closely with our design team to iron out detailed construction elements, meet on site to address construction revisions, and form a comfortable, collaborative environment in which to share ideas and solutions that kept our clients' best interest (and budget!) in mind,
leads us to highly recommend and refer such a great team. We look forward to working with Chad of All Trades on future projects!
I truly enjoy working with COAT. Chad is an effective Leader, he has a positive attitude and works very well with others. As an Interior Designer, I can count on him to execute each design detail in a professional manner. He is very considerate and realistic with time frames and always meets his deadlines while trouble shooting unforeseen job site conditions. When Chad is on your project, there are rarely any mistakes or surprise change orders. The construction process is painless because he is extremely reliable. He is very easy to communicate with and responds within a few hours or, at the latest, the day after you contact him. He may not be the lowest bid you will get, but the most accurate without any hidden costs. I would recommend COAT to anyone who wants their project completed within budget & by a realistic deadline.
Already a Chad of all Trades Customer?
Sign in below.